SEABOB F5/F5S
The Seabob is a high-end electric underwater scooter, made in Germany, designed to explore the surface of the sea and/or beneath it. Excellent handing, unique agility, and easy piloting make this product a water sports vehicle that is unique of its kind.
SEABOB F5
Optimal handling with powerful thrust.

One particular distinguishing feature of the SEABOB F5 is its extremely low weight. Tipping the scales at just 29 kg, the craft boasts a propulsive force of 480 newtons. The E-Jet Power System in the SEABOB F5 is controlled in 4 power levels. These increments lend it a sporty character and guarantee absolute fun and pleasure. Its special degree of dynamism in the water results from the high performance of the craft coupled with the low power-to-weight ratio.

The outstanding properties of the SEABOB F5 in terms of handling make it suitable for use in water anywhere. It is at home in the sea. It demonstrates outstanding performance on the surface of the water and when diving. Owing to its extremely high degree of manoeuvrability, the SEABOB F5 can be enjoyed in both small and large pool complexes.
SEABOB F5S
Irrepressible and intense.

The SEABOB F5 S is an ultimate high-performance watercraft. Weighing just 34 kg, the vehicle possesses extremely good handling properties out of the water. The SEABOB F5 S boasts a strong propulsive force of 680 newtons in the water. The E-Jet Power System is controlled in 6 power levels. These gears of the SEABOB F5 S allow you to glide along at a relaxed pace in a low gear or, for more ambitious high-speed driving, switch up to 6th gear.

The watercraft has a highly sporty character and stands out in terms of its extraordinary dynamism. Its sporty appearance is emphasised by elements in a matt chrome design. The SEABOB F5 S is at home in the sea and its high degree of manoeuvrability also makes it ideally suited for use in larger pool complexes.

Autonomy: 75 Minutes
Weight: F5: 29kg F5S: 34Kg
Quick charging: 75 minutes
Charging: 8 hours

Price: 250,00 €/DAY (weekly basis only)
Security deposit: 1.500,00 € (exclusively credit card authorization)
LAMPUGA AIR (ELECTRIC JET SURFBOARD)
Lampuga Air the ultimate fun and practical jetboard. The inflatable board has a two-part design, which allows for easy transportation and storage, while its powerful jet drive ensures fast movements on water. The board is made of a robust drop-stitch material, which comes in several playful colours, is equipped with five handles and has a non-slip grip pad centre. It is easily assembled, has a top speed of 50km/h and weights 38kg including the battery. The board offers an effortless and thrilling surfing experience and suitable for all riders.

Weight: 38 kg
Speed: up to 50 km/h
Electric engine: 14hp/10kW
Battery: up to 60 min
Charging: up to 120 min

Price: 280,00 €/DAY (weekly basis only)
Security deposit: 1.500,00 € (exclusively credit card authorization)
MAGICSURF E-JETBOARDS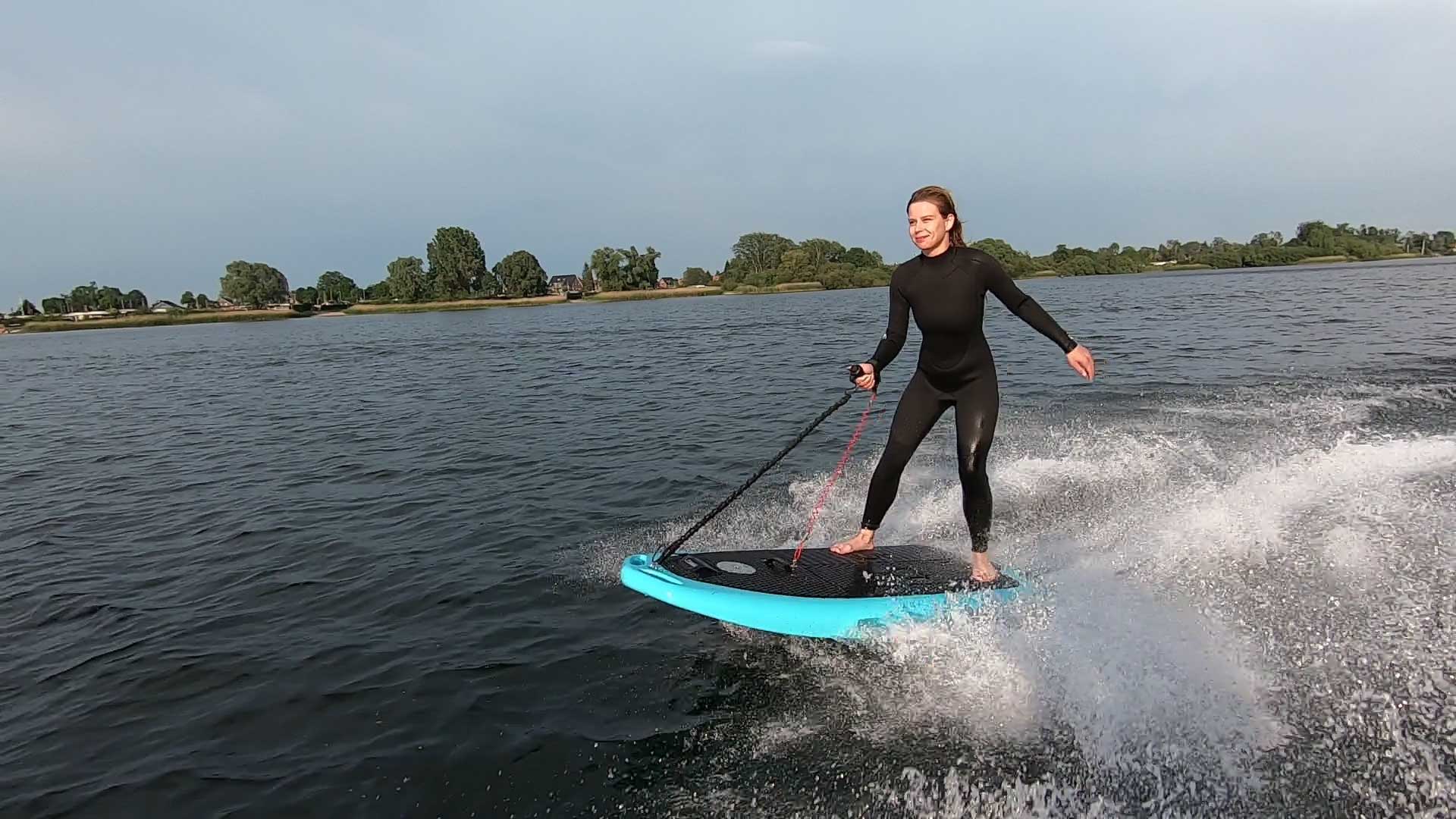 No waves, no wind: No problem
Grab the board and put the pedal to the metal. It is totally easy to have fun with our powerful electric jet board.
Magic Surf has developed a universally unique e-jet board based on hard-earned experience.

Weight: 60 kg
Speed: up to 55 km/h
Electric engine: 19hp/14kW
Battery: up to 40 min
Charging: up to 120 min

Price: 280,00 €/DAY (weekly basis only)
Security deposit: 1.500,00 € (exclusively credit card authorization)
Manta 5 HYDROFOILER™ XE-1
The world's first water-bike that replicates the cycling experience, on water. Using the same technology as America's Cup sailboats this Hydrofoil eBike opens up a whole new cycling frontier. Suitable for a wide range of fitness levels, riders can explore ocean coastlines, train along waterways, or cruise lakeside with friends and family.

Variable pedal assist can be dialed up or down to fit your needs.
Top speed of up to 12 mph (similar to traditional sailboats).
Modular design for quick assembly and transport to and from the water.
Fast and maneuverable, get ready to experience the thrill of cycling on the open water - no roads, no traffic.
Frequently asked questions:
Who can ride the bike?
Confident swimmers between 60kgs – 100kgs of any age (no license required). The Hydrofoiler is optimised for riders weighing between 70kgs-90kgs. To perform the submerged launch, riders do need to weigh below 100kgs in order to re-surface.

How fast does the Hydrofoiler go?
The bike boasts a top speed of 22kmh and a cruising speed between 11 – 13kmh. Minimum speed needed to foil is 8.5kph (Less than 5 knots).

How long does the battery last?
The battery offers up to 4 hours of riding time on the lowest assist level and 1.5 hours on maximum assist*. Riding conditions, rider input and ability will affect ride time. The 70 cell lithium-ion battery pack delivers 22Ah with each battery pack being easy to swap out in minutes.
To recharge the battery, the battery plugs into any standard wall socket and takes 3 hours to charge back to full.
*Ride duration is subject to rider weight, water conditions and level of electronic assistance the rider has selected.

How does the battery handle the heat/cold?
The total ride time (battery life) may differ when operating in extreme ambient temperatures.

Autonomy: battery ride time 1-4 hours dependant on level of electric assist
Weight: 30,50 kg
Battery: up to 4 hours
Charging (full charge): 3 hours

Price: 200,00 €/DAY (weekly basis only)
Security deposit: 1.500,00 € (exclusively credit card authorization)
E-FOIL
Fly above the surface. Without wind. Without waves.
Easy to use, designed for beginners as well as expereinced water sports enthusiastics. This electric hydrofoil surfboard rises above the surface which results in a sense of flying and Li-Po battery powers electric motor which is operated by the wireless hand controller. Driving direction is controlled by the body, and the battery, which is replaceable, lasts from 60 to 80 minutes, depending on the speed and rider's weight. To charge the battery which is completely empty, it takes up to 90 minutes. The board, whose top is covered with an anti-slip sponge, can easily be assembled and taken apart: keel and wings can be separated to facilitate transport.

Thanks to its design, ths E-foil can be ridden standing on the feet, sitting or lying on the chest. Outstanding design, functionality and materials.

FEATURES:

MODULARITY
easy to disassemble and assemble (without additional cables)
ECO FRIENDLY
silent, emission free electric motor
2 DRIVING MODES
for private use and for rental business
SAFE MODE
driving with limited speed when battery is on minimum
SPEED
maximum speed: up to 35 km/h
BATTERY
battery life: 60-80 minutes
battery charging: up to 80 minutes
Maximum weight of the rider: 120 kg

Price: 250,00 €/DAY (weekly basis only)
Security deposit: 1.500,00 € (exclusively credit card authorization)